2014年12月10日
Nara is a city of temples. People go there on pilgrimage, to pray in the ancient temples and shrines and hope for their wishes to come true.
Nara was the capital of Japan in the eighth century when the emperor of Japan first converted to Buddhism and built the Todai-ji temple which houses a 50-feet tall bronze statue of the Buddha, the largest in the world.

Over the centuries many other temples and shrines were built in the same park and today it is the center of Japanese Buddhism and a major pilgrimage site. Surrounding the temple is a huge deer park, inspired by the park in Sarnath, India, where the Buddha first preached.
One of the first sights to greet you as you enter the sprawling temple grounds of Nara are the hundreds of tame deer wandering about. Considered sacred, the deer are allowed to roam freely, posing for photographs while hoping for treats from enthusiastic visitors. Be wary - the deer can be very persistent! If they see or smell a treat on you, they will crowd around and nose it out of your hands before you can move any further.
Nara pays homage to the original deer park in India by erecting a statue of four lions, which was the symbol of the Indian Emperor Ashoka who dispatched missionaries around the world to spread Buddhist teachings. The original statue still stands today in Sarnath, India.
A short stroll from the Todai-ji temple, deep in a lush primeval forest is the famous Kasuga Grand Shrine. The path leading up to the shrine is lined with 3000 ancient stone lanterns. These are lit only for a new nights each summer, creating a stunning display. Inside the Kasuga Grand Shrine are hundreds of more lanterns, made of bronze, donated by worshipers.
People come from great distances to ask for their wishes to be granted by writing them on little tags that are tied to the temple railings.
As Nara is predominantly a Buddhist temple town, it has developed a rich vegetarian cuisine over the centuries. During our visit to Nara, we enjoyed a complete meal centered around tofu. As the skillfully prepared and beautifully presented dishes were placed before us, we were amazed at the sheer variety of ways in which tofu can be cooked, each more delicious than the last!
There was chilled tofu with soy and wasabi to start us off, followed by tofu tempura, grilled tofu with miso, tofu hotpot, and my favourite - tofu made with sesame seed paste instead of soymilk. It had a subtle nutty flavour and light texture. Bathed in a delicate soy based sauce with just a hint of wasabi resting on top, it was sheer perfection!
We felt good after eating this multifaceted, deeply satisfying tofu meal and resolved to keep on eating lots more tofu once we got back home to Toronto!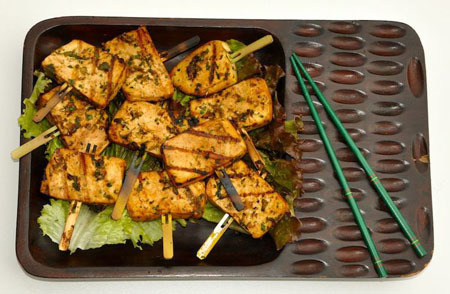 My grilled tofu recipe borrows from both Indian and Japanese cuisines, resulting in delicious, irresistible fusion! It tastes best when grilled on a barbecue but you can always use the oven if you wish. A neat trick to prevent the tofu from sliding off the skewers is to use two skewers, inserted parallel into the tofu cubes. Serve tofu skewers hot while the insides are still soft, and outside is lightly crisp.
Grilled Tofu
♫1 pkg (350gm) extra firm tofu, cubed into 2 inch pieces
♫2 each: garlic cloves, green chillies
♫1/2 inch ginger
♫1/4 cup loosely packed fresh coriander
♫2 tbsp each: soy sauce, rice vinegar, sesame oil
♫1 tbsp each: red miso paste, tomato paste or ketchup
♫1/2 tsp sugar
Half lemon
Wooden skewers for grilling
Place tofu in deep mixing bowl.
In mini blender, combine remaining ingredients except lemon. Process until smooth. Pour over tofu in bowl and toss gently to coat tofu with marinade. Cover and refrigerate for up to 4 hours.
Before grilling, soak skewers in water for 1/2 hour.
Preheat barbecue grill to medium high heat. Thread tofu cubes onto skewers and grill for about 5 min per side or until lightly charred and softened, turning once.
Sprinkle lemon juice over top.